Product DescriptionIntroduction: JBW-B series PC controlled semi-automatic impact testing machine is mainly used to determine the anti-impact capability of ferrous metal materials with high toughness, especially for steel and iron and their alloy, under dynamic load.
This series tester is operated semi-automatically, the pendulum of the machine can be raised or released automatically. Be applicable for continuing testing in different kinds of laboratories and other metallurgy industrial manufactories.
It is designed and developed according to standard of ISO148, ASTM E23. ( charpy impact test equipment price / charpy impact tester/ impact testing machine )
***1, Pendulum rising, impact, free releasing etc. action can be controlled easily by PC mouse simple click, as well as the remote control box;***2, Safety pin guaranties the impact action, standard protection shell to avoid any accident. ***3, Pendulum will automatically rising and ready for next impact action after specimen breakout. ***4, With two pendulums (big and small), PC software to display the energy loss, impact tenacity, rising angle, test average value etc. test data and result, also the curve display available; with calculation and report printing function. The dial scale can show test results too. Specification in forms:

Model
JBW-300B
JBW-500B
Display mode
PC software & Dial scale
Impact energy
300J/150J
500J/250J
Large energy like 800 available
Distance between pendulum center to impact point
750mm
800mm
Impact velocity
5.2m/s
5.4m/s
Pendulum preparing angle
150º
Span of specimen seat
40+0.2mm
Round angle radius of Grips
R1-1.5mm
Round angle radius of striking edge
R2-2.5mm, R8±0.08mm
Angle of impact knife
30°
Specimen size
10 (7.5, 5, 2.5)mm*10mm*55mm
Power supply
3 phases 4 lines, 50Hz, 380V
Weight
650Kg
850Kg
Our Services Lifelong after sales service & maintenance; Response within 24 hours for any problem; Overseas training, installation is avaliable. Accessories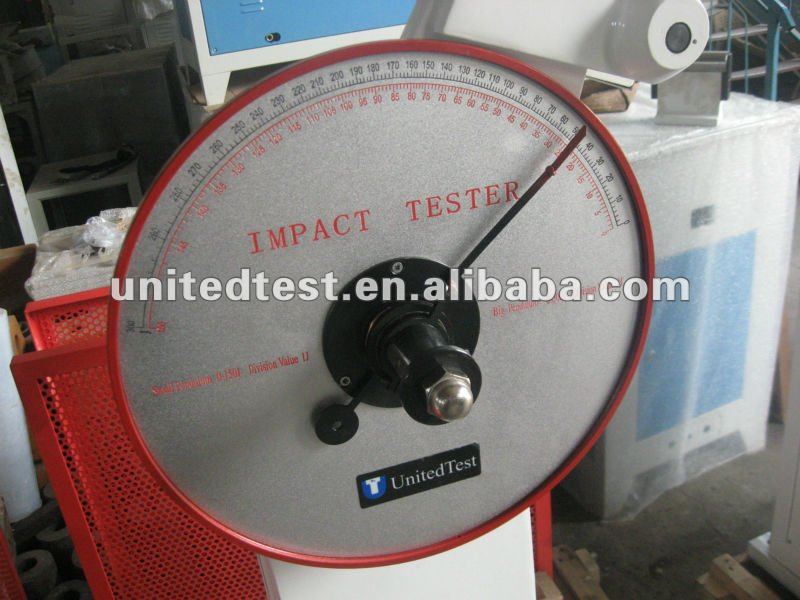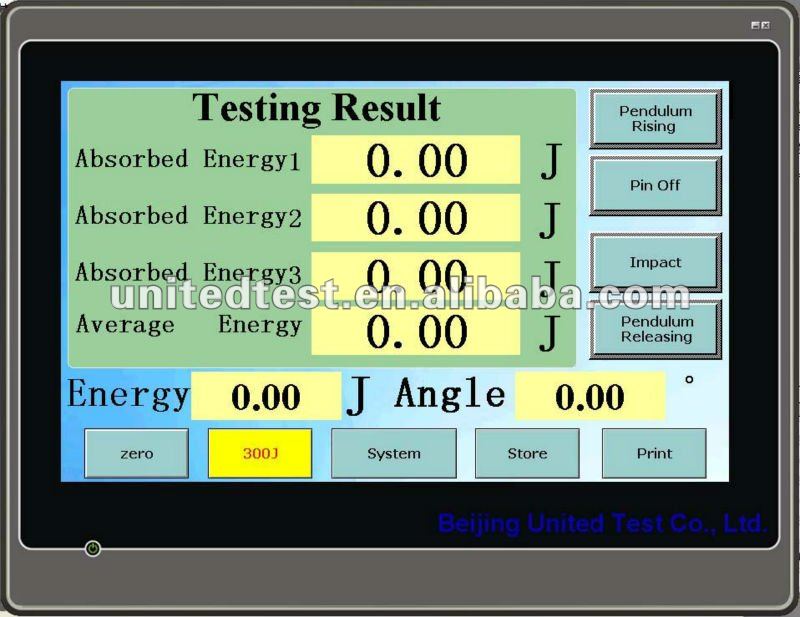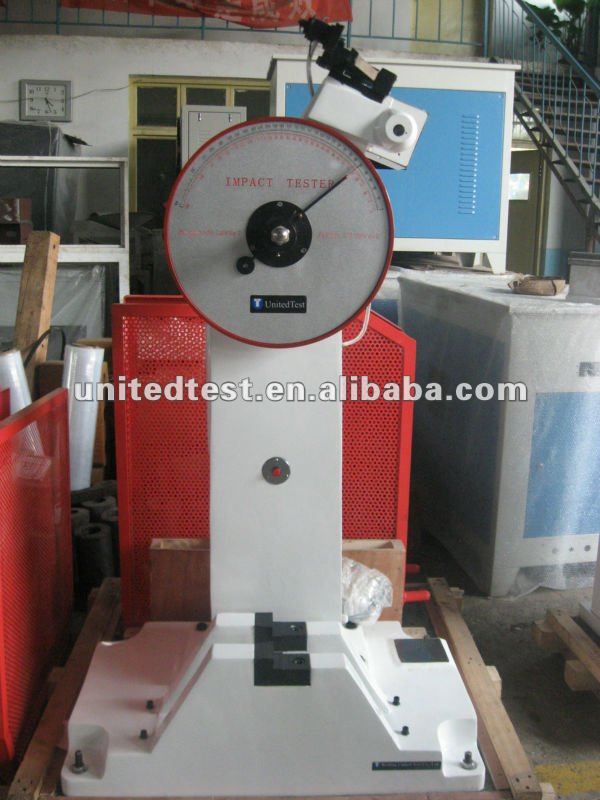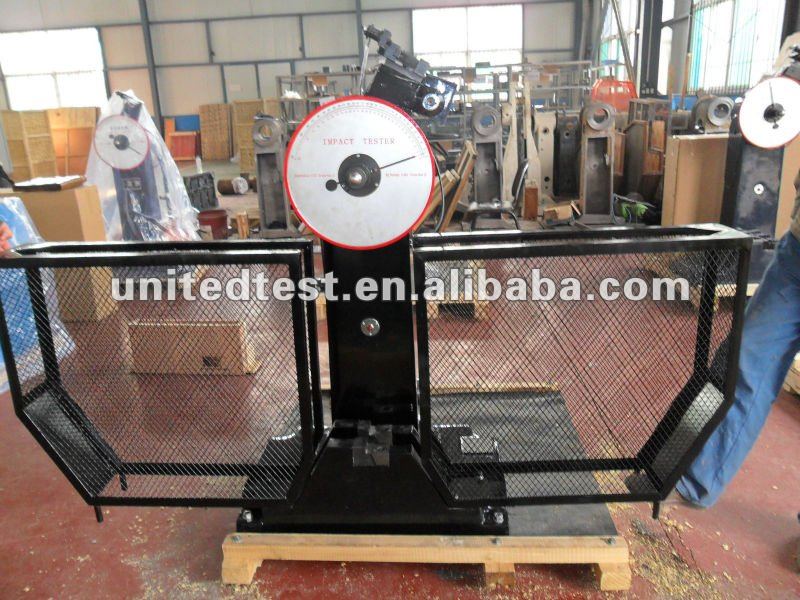 Standard Accessories: 1. Big Pendulum (300J/500J): 1 pc 2. Small Pendulum (150J/250J): 1 pc 3. Span specimen plate (L = 40mm): 1 pc 4. Specimen centering plate (L = 40mm)(U, V): 1 pc 5. Detacher: 1 pc 6. Simple-head spanner (S=30mm): 1 pc 7. Inner-hexagon spanner (S=12mm): 1 pc 8. Anchor bolts (M16x300mm): 4 pcs9. Grips (including support) (R=1mm): 1 pair 10, Touching screen control panel/ PC software & PC Company Information Beijing United Test Co., Ltd as a testing instruments supplier in Beijing China, founded in 1985, is a high-tech company in metal and non-metal materials testing, measureing, analytical industries. Focus on quality and service, we are trying to fulfill your comprehensive testing requirement.
Customer Training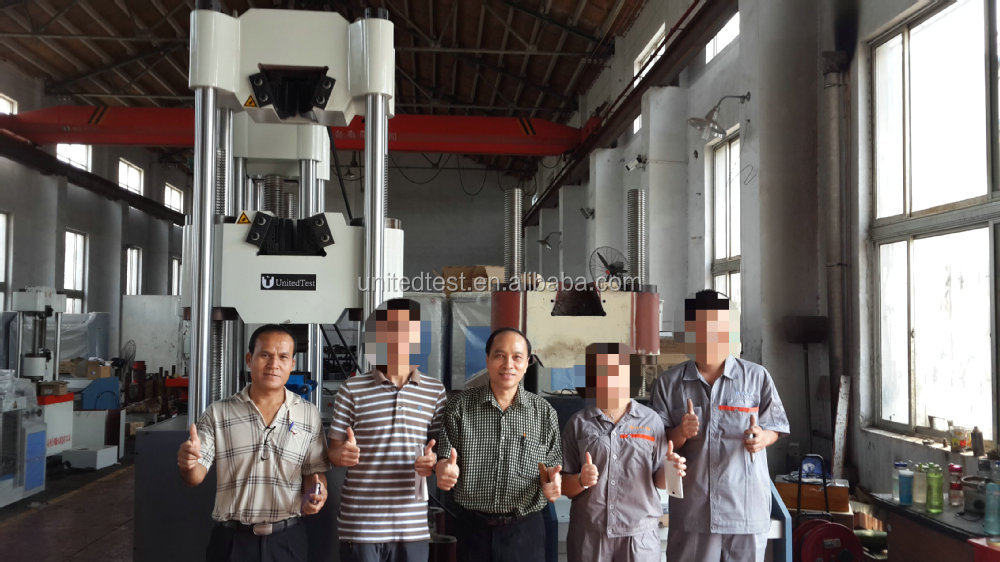 Thailand Customer training for 2000KN computer controlled hydraulic Univesal testing machine
Iraq Customer training for 50KN computer controlled Univesal testing machine (ring stiffness tester etc.,)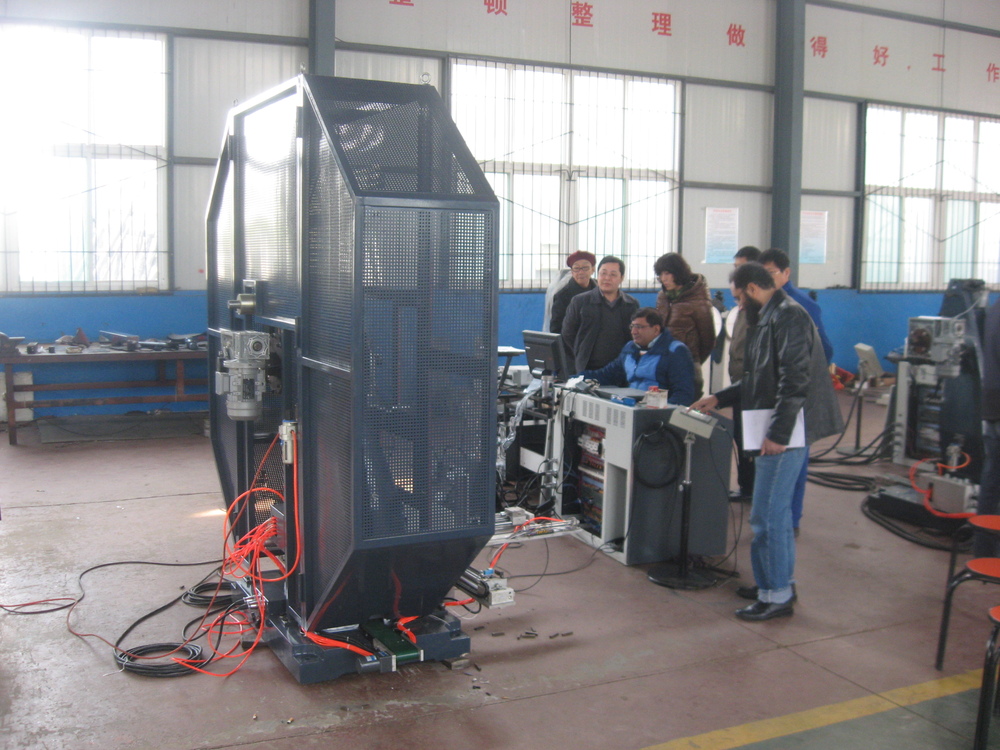 Pakistan Customer training for 500J Computer controlled instrumented high-low temperature fully automatic pendulum impact testing machine.Buyer FeedbackEngland The King's School Mr.Graham Swindley: Products arrive in good conditions, thanks a lot for your fully cooperation and patience. Greece AGRICULTURAL UNIVERSITY OF ATHENS Mr. Dimitrios Briassoulis Mr. *** contact with me today, he plan to purchase your product too, I told him all god about you. I think he will place order to you soon. Besure I will introduce more friends to you for your products. USA University of Central Missouri Mr. Troy Ollison The goods can fully meet our test requirement, I appreciate your quickly response and fast delivery.