Soil testing equipment small lab jaw crusher for bentonite crushing Product Description Factory directly sales— Small lab jaw crusher PE150x250!!!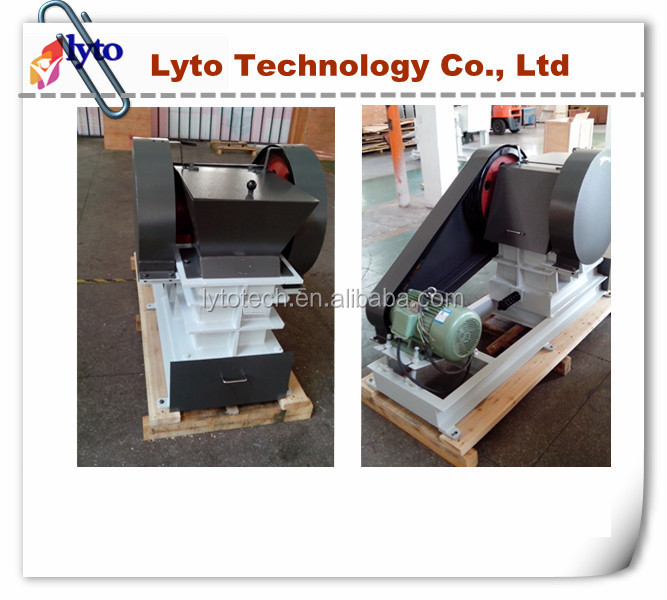 1. small lab jaw crusher application:The PE 150X250 small lab jaw crusher are mostly used for stone crushing, but also can be used for crushing various hardness material like yellow iron stone, fluorite, Maria glass, limestone, copper, gold ore, silver ore, coke, coal ect. The following are the industry application of small lab jaw crusher: Mining and Metallurgy: Coal, minerals, coke, vanadium, titanium slag, carbonized tungsten; Chemistry: raw materials. Non-metal minerals: alumina, cement clinker, quartz. Geology and mineral: all kinds of rock. Glass: frit, raw material, glass. Ceramic: talc, refractory mud, ceramic, sintering porcelain. Application Industry: metallurgy, mining, cement, chemistry, refractory. Quarry, coal mining, mines mining, desulfurization in power plant, quartz sand, concrete mixing station, etc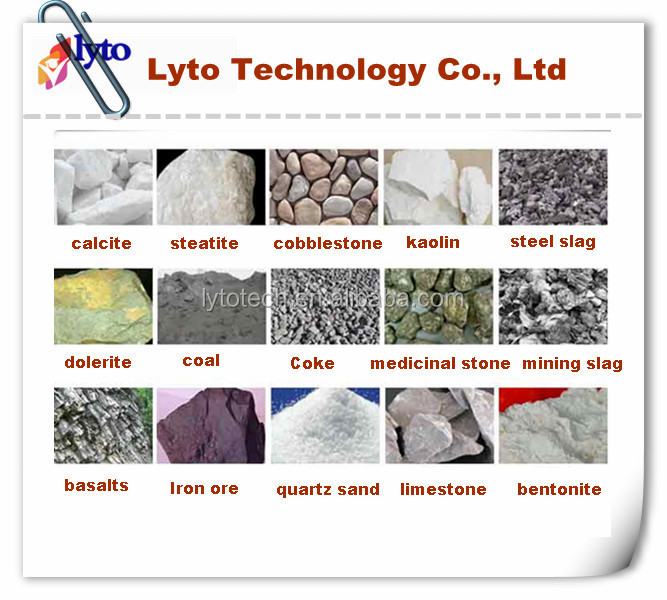 small lab jaw crusher application 2. Our PE150X250 small lab jaw crusher features: This small lab jaw crusher had the character of small size, even output size, The jaw plate is special processed with special material, which higher quality and durable. Simple structure, reliable operation, easy maintenance.Smooth running, longer service life. equal product granularity,reliable working condition, convenient repair and economical operation 3. Working principle of our small lab jaw crushers: After starting the motor, triangle belt and motor belt wheel will drive the belt wheel and eccentric shaft to rotate, the movable jaw and movable jaw plate will do periodic movement, when the material passes through the no-rebound hopper and enters into crushing chamber, then the movable jaw plate and fixed jaw plate crush the material by friction.
4. Main structure of our 150×250 small lab jaw crushers: Lab PE150x250 small lab jaw crushers are commpose of : machine Frame, Motor, Belt wheel of motor, Triangle belt, Belt wheel, Bearing pedestal, Eccentric shaft, Oil nipple, Bearing cover, Bearing, Weight wheel, Side plate, Movable jaw, Movable jaw plate, Fixed jaw plate, Reserved sample drawer, Supporting plate, Adjusting wedge, Wedge, Adjusting screw rod, Spring, Adjusting bolt. 5. Main Parameters of PE 150X250 small lab jaw crushers :

| | |
| --- | --- |
| Model | LTPE150X250 |
| Feeding entrance size | 150×250 |
| Feeding size | less than 125mm |
| Output size | 10-40mm |
| Capacity | 1000-3000kg/h |
| Motor power | 5.5kw |
| Dimension | 896x745x935mm |
| Power supply | 380v |
Standard jaw plate material of small lab jaw crushers: manganese steel Other available material jaw plate: tungsten carbide, chrome steel. We also can customized various size jaw plate with different material. Other models of our small lab jaw crushers:

Model
PE100X100
PE100X125
PE100X60
Feeding entrance size
100x100mm
100x125mm
100x60mm
Feeding size
Max 80mm
Max 100mm
Max 50mm
Output size
1-25mm
2-35mm
0.1-15mm
Capacity
60-850kg/h
300-2000kg/h
45-550kg/h
Motor power
2.2kw
3kw
1.5kw
Power supply
380V/50HZ
Packaging & Shipping6. Packing ways: Standard export packing with plywood caseHere our machines are with water proof, and also machine fixing process to make sure the machine received be intact and good condition. HerExport port: Guangzhou or Shanghai or as requiredDelivery ways: by sea or air or expressDelivery time; about 10-15 days
Our Services 7. Warranty; 12 monthsBefore sales: Technical staff provide individual solution according to client process requirement After sales: experienced after sales man follow the using condition, and solve any problem at the first time for you.Engineer overseas were also available LYTO TECHNOLOGY WOULD BE YOUR RELIABLE FACTORY. LYTO—20 YEARS MANUFACTURE EXPRIENCE, WELCOME YOU TO CONTACT US FOR MORE DETAILS. Our product including: Lab jaw crusher/lab grinding mill/lab roll crusher/ lab hammer crusher/lab flotation cell/ lab divider/lab shaking table/sieve shaker/ lab ball mill/ laboratory diaphragm Jig ect
Lab jaw crusher lab roll crusher lab hammer crusher
Lab grinding mill lab flotation cell lab leaching agitation tank
lab shaking table lab ball mill lab sieve shaker
lab drying oven lab riffle divider lab disc mill Company Information We are warmly welcome you to contact us or visit us for more details!!